Bolton Wanderers join up their data and marketing with Jonas Sports
Bolton extend their partnership with Jonas Sports by adding the Sports Data Hub & Marketing to their Retail solution.
Bolton Wanderers are a football club playing in League One of the English football pyramid.
Jonas Sports are the complete sports enterprise solution, providing a number of services to sports clubs, including data and marketing.
The Challenge
Bolton Wanderers understand the importance of an integrated sales and marketing solution and, having used the Jonas Sports Retail system for some time, they wanted a joined up approach for optimal marketing campaigns.
The Solution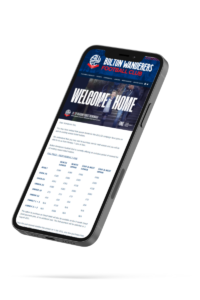 Bolton Wanderers extended their partnership with Jonas Sports to add the Data Hub and Marketing solutions to the Retail system already being used by the League One club.
Jonas Sports Data Hub has helped Bolton to understand the clubs fans. Data based upon fan interactions, behaviours and transactions are integrated and aggregated to create the all-important single fan view, delivering greater insight for targeted marketing campaigns.
Bolton's commercial, marketing and retail teams now benefit from integrated sales, marketing and retail solutions aimed at providing excellent fan experiences and increased revenues for the club.
The marketing team at Jonas Sports are hands on, delivering campaigns on behalf of the club via the Jonas Sports Marketing managed service.
The Results
Bolton Wanderers, with the help of Jonas Sports, are experiencing record sales of their new home shirt and season ticket orders are currently at 10,500 for the upcoming campaign. The first league match of the 21/22 season saw over 16,000 fans attend, up 4,000 from the 19/20 season average attendance.
"We have been delighted to extend our partnership with Jonas Sports which originally started with their retail solution (powered by Retail & Sports Systems) and we now use the sales and marketing tools and the managed marketing service. The team have been fantastic to work with and we have already seen increases in season ticket and replica shirt sales."
Paul Holliday, Head of Communications, Bolton Wanderers

"We are thrilled to be working in partnership with a club of such rich heritage and history. We are proud to be helping the club connect with their fans via our platforms and we are pleased that Bolton share our view in the importance of connecting data from all touchpoints for the complete overview and optimal decision making."
Sam Nixon, General Manager, Jonas Sports
Our ongoing work with Bolton helped them to win the Best Club Marketing Campaign for their 2022/23 'Be Part Of It' season ticket campaign!
Explore
About Jonas Sports Data Hub
If you have many data sources: trying to tie these together to create a single fan and reporting view is a real challenge.
Jonas Sports combines these sources into one data warehouse, resulting in a single fan view for the ultimate, actionable insight.
About Jonas Sports Marketing
You might not have the resources or expertise in-house to make the most of your data.
Jonas Sports Marketing provides all of the necessary resources and skills required to improve the quality of data, generate insight and help you create, manage and measure campaigns more effectively.
About Jonas Sports Retail
Modern sporting organisations are as much retail businesses as they are clubs and they need a partner they can trust, who knows the industry inside-out.
Jonas Sports Retail specialise in providing powerful, cost-effective omnichannel retail platforms for sports clubs.
Get in touch below to find out how Jonas Sports can be the perfect fit for your club.