Sports F&B, Catering & Hospitality EPoS System available on a 'free transfer'!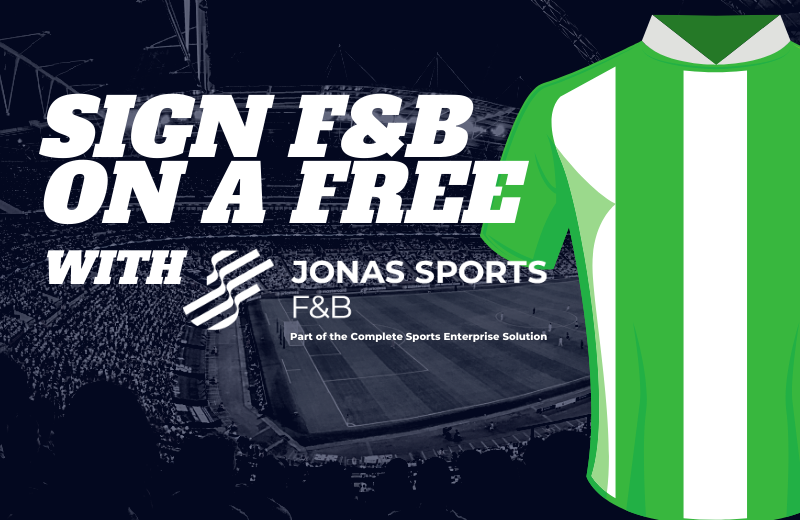 Fans are returning, and we're here to help get your stadium ready and unveil your newest signing. Jonas Sports F&B is a leading provider of EPoS, payments, loyalty and reward solutions providing high quality systems and support services to sports and stadia, with full project implementation, training and support.
We're now able to offer this F&B, Catering & Hospitality EPoS system at an unbeatable price, and your chance to make the signing of the season.
Jonas Sports F&B is a quality solution that you'll get installed and set up for no initial fee and you won't start paying until you're using it. We'll then spread the cost over the terms of the contract, a bit like buying a mobile phone… or a player on a free transfer.
---
How does it work?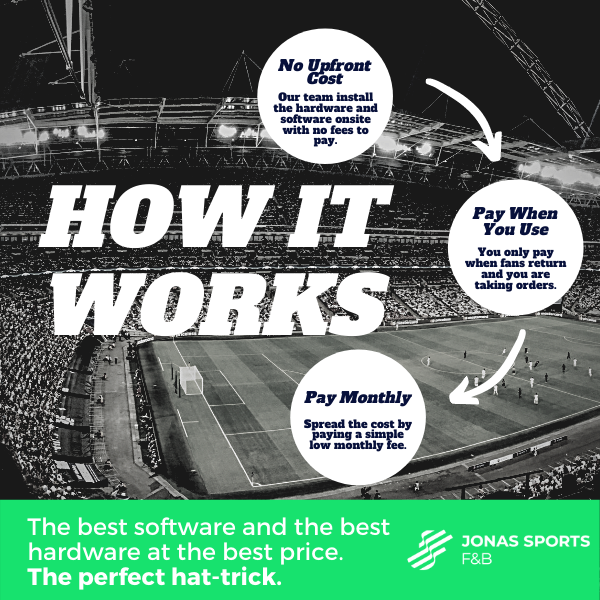 1. Get installed and set up for no cost
Our team will install the hardware and software onsite, with no fees to pay. That means no license fee, no implementation fee and no upfront capital fee. You'll get state of the art technology from providers such as Aures or Toshiba, running our leading EPoS software installed in your stadium with ZERO initial expenditure.
2. Don't pay anything until you're using it
Once your kit is setup and ready to go, you'll be able to start taking orders whenever you want and you won't pay anything until you've started using it. That's NO PAYMENT until fans have returned and you are taking orders.
3. And then it's only a low monthly fee
Once you're open for business and you are using the system in your concourses, restaurants and hospitality areas, it's just a simple LOW MONTHLY FEE (based on your requirements and transactions).

---
Why use Jonas Sports F&B?
Our F&B solution has an excellent track record of working with the biggest and the best. An opportunity to work with a top of the range software and services supplier, at an affordable price with nothing to pay whilst it all gets set up is not to be missed. Our F&B, Catering & Hospitality EPoS has everything you'd need to successfully run your stadium's food and drink ordering needs.
Embed from Getty Images

Sport F&B Software
Our PoS software is developed in-house with a made-to-measure, customisable approach with integrations with finance solutions, payments, procurement, printing & copywriting, conferencing and more.
Management is all from the cloud, with inventory control, reporting, stock-take and eProcurement.
Fixed Sport PoS
Our fixed PoS terminals are top of the range, from leading manufacturers including Toshiba and Aures. If you already have equipment, we may be able to work with it and provide our software.
Stadium Restaurants
Our fully functioning restaurant system, enabling table management, the creation of tabs and split bills, makes match-day hospitality a breeze, with a link to the kitchen displays to show orders.
Mobile PoS for Stadiums
Handheld and mobile tablets with docking stations are available to make sure that flexibility, efficiency and speed are the key attributes of you team.
Stadium Self Service
'Pick up and go' and 'Order Ahead' modules enable a fast and simple purchasing journey.
Order Ahead for Fans and Guests
Ordering ahead via app cuts down on queueing and waiting on game day, with social distancing better managed.
Vending for Sports Venues
NFC and mobile ready vending machines are available.
Embed from Getty Images
---
Sports Hospitality, Sports EPoS and Sports Catering for your Stadium or Venue
Our offer is available to all sports clubs and organisations, with the only requirement that you partner with our fully PCI compliant, FCA accredited payment processing solution. The best hardware and the best software at an unbeatable price – it's the perfect hat-trick.
Get in touch below to discuss with our F&B experts.
---
By Matthew Rogers